news y articles
5 hospitality design trends you need to know for 2017
2017-02-13
Interior designers shared some insights into what hotel design elements will be hot this year—and beyond.
Colors that Pop
As recently as five to 10 years ago, neutral colors reigned supreme. Then, bit by bit, clients began asking to inject color into spaces.
With a neutral base, designers are infusing deep, saturated colors, creating bold, striking experiences in the space. A primary reason for this is that as millennials choose hotels on sites, they seek out the most eye-catching pictures. With less brand loyalty than previous generations, these guests are opting for elements that photograph well. Millennials are digital, so they want to share pictures. Designers are providing them with something to photograph—something in lobby, a selfie they can share with friends.
Beyond that, many homes are decorated in neutral colors. When they go to hotel with bold color, in their minds, it's different. It's fun, vivid, as opposed to their comfortable home.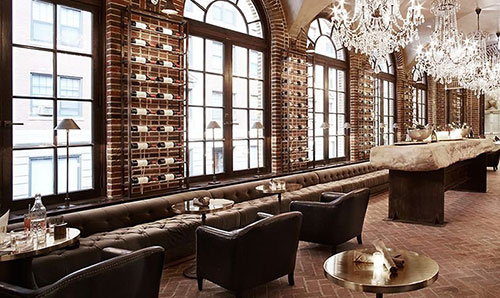 Warmer Metals, Rougher Luxury
Over the last year, "cool" metallic tones have given way to golds, bronzes and warmer metals. Prepare to start seeing even darker metals, such as dark bronze, incorporated into interiors.
This new aesthetic, which is describe as "rough luxe," is a reaction to the "polished, glossy, flawless" spaces that have been trendy for years. People love the emergence of rough luxe. It shows the provenance and the history of the space. In imperfections, you find luxury. If something has history, a story to it, that brings luxury to it.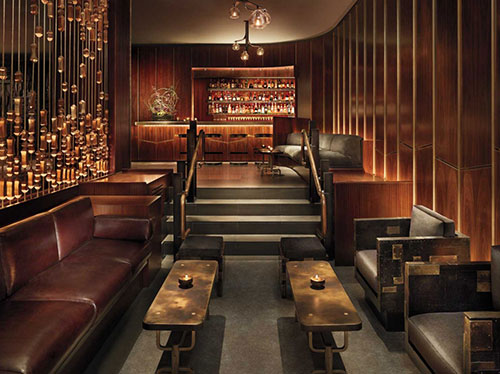 Steampunk enters the Mainstream
Steampunk—the combination of Victorian fashion and modern technology—has gone from niche to nouvelle. The trend is going from one art medium to next.
In terms of design, hotels can include steampunk elements with warmer metals, leather, exposed brick and "beat-up" decor. You will see elements of it in light fixtures and furniture—in the hardware, there'll be nuts and bolts. Artifacts that set the stage to tell a story will be used as decorative touches. Accessories that set the decor are a cue to someone that they're in a unique space.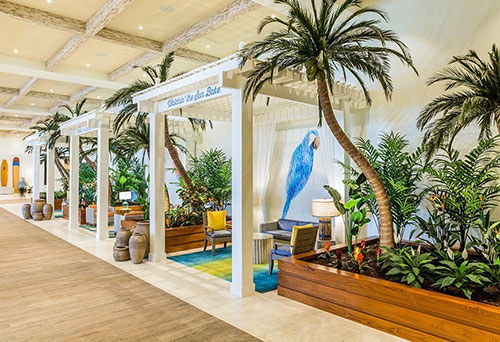 From Outdoor to Indoor
Outdoor elements are becoming increasingly popular in interior design, from upholstery to wood finishes and—of course—living plants used as decor.
It started the trend in the 1990s, with hotels on their decks with oversized potted plants. Since then, people are having fun with that idea, especially in cities.
A great example is the lobby ot the Margaritaville Hotel in Hollywood. When you walk in the door, the limestone floor has embedded shells. The layout of lobby is organized so that there are nooks with cabanas. And within those cabanas, there are hanging sofas. It's organized with planters that form the furniture plan. You walk around the planters filled with all sorts of plants and palm trees. Immediately, somebody feels like they're on vacation in a tropical place, and they're relaxed.
Outdoor fabrics are fabulous these days. The textures give a casual elegance. With guests increasingly concerned about how eco-friendly their hotels are, having live plants in the decor sends a message of environmental awareness.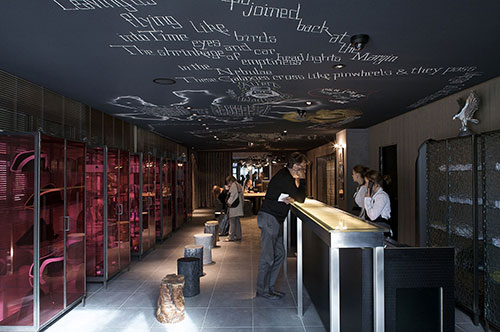 The Writing is still on the Wall
Whether it's text embossed on the floor of a hotel lobby or a menu printed on the wall of a restaurant, more designers will incorporate text into their hotel designs.
It's a way to get people to stop and pause. In hotels, song lyrics are used as decor. It's the simplest way of creating an eye-catching design element.
For a designer, incorporating text into the decor can bring the entire project full-circle. When designers begin to imagine what a space can look like, they "infuse" themselves in research. A poem or a song lyric can be an inspiration from the get-go, and can convey the hotel's message to its guest. It goes back to the message of what they want people to experience.